http://www.jockey.com/Home/Bra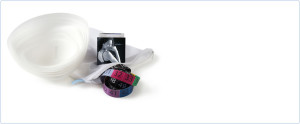 Last weekend as I was browsing around the Jockey store I noticed a very cool display.  There was  pitcher of water and measuring taps and what looked like odd shaped Tupperware bowls on the table.  A very perky woman was raving about the new measuring system for the revolutionary new and improved Jockey bras.  It was called Volumetric Measuring. I was intrigued to say the least especially since the one I was wearing was digging trenches into my shoulders and the under wire was poking me in the under arm.
As I am always and forever looking for the perfect bra I decided to get measured.  First they do the traditional around the middle measuring tape analysis.  My number was in the red section of the tape which I am sure is code for fat.  The red zone is probably to alert the sales girl that the customer might also be trying to eat a Snicker bar during the fitting so beware.
The next step was taking the Tupperware bowls and placing them on your breast until you found the one that your entire breast would fit into.  After lifting and tugging to get my breast in the "container" I was given a number and she went off to find the perfect bra for me.
When she returned she handed me a bra packaged in a shoe box.  As I pulled it out I noticed the straps were about 1/4 of an inch thick.  I looked at the sweet young girl and said "I don't know if you got a good look at my breasts when we were wrangling them into the Tupperware but this strap is not going to be able to support them.  Do you have anything about the width of ruler?"  She shrugged and went back out to try again.  I am sure she was thinking "wow these fat old ladies are sure cranky" but in a few years she will understand.
While I waited in the very large and comfortable waiting area she handed me a super soft robe to wear which made me feel a little more glamorous than the usual scenario of me standing in a dimly lit cube with my arms crossed over my breasts. I feel in love with the robe and decided it had to be mine.  Very good work savvy little shop girl.
After we decided my "bowl" size I tried on the bra and it was amazingly comfortable.  The price was 60.00 and I decided that I would try one.  I have made the mistake before of trying on a bra and because it felt so much better than the worn out saggy one I had on I bought one in every color.  After wearing it for awhile I discover it wasn't as comfortable as I had originally thought and I am stuck with six or eight of them.
I was so comfy in my robe in my well light and ventilated dressing room I purchased eight pair of underwear called Cool Fit that are guaranteed to be three whole degrees cooler than wearing regular underwear.  I was so excited by my breasts being in the right palce for once that I apparently lost my damn mind.  When I got in the car I realized I had just spent a boat load of money on something to make my butt three degrees cooler.  First of all how would I know if my butt was really three degrees cooler and second of all I am not in the position to afford such luxury.
So my suggestion is to try the new Tupperare for Titties (which I think would have been a much better name for them) but stay away from the "cool" underwear.