The Other F Word Is Back!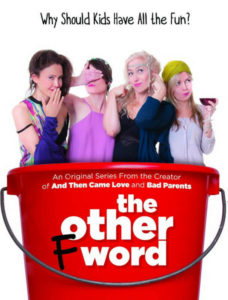 Pop open the champagne ladies, because Season Two of The Other F Word is now available on Amazon. If you're looking for a tutorial for rocking midlife then The Other F Word is a must watch!
Last year Amazon launched The Other F Word as a laugh riot how to guide for being fabulous and over forty and it became one of their top watched series.
Created by Caytha Jentis, The Other F Word is a dazzling reminder that having fun isn't just for millennials. The party doesn't stop when hit your forties and there's no need for last call to be at 9 pm.
My favorite way to watch The Other F Word is to surround myself with other fabulous midlife ladies, pour a cocktail and take a drink each time we see ourselves in one of the characters. It's best to have a designated driver because watching this show is like looking in a mirror and seeing the best parts of yourself.
In Jentis' Amazon Original Series women in midlife are finally being represented as smart, funny and sexy as they tackle life's adventures head on. You will laugh as these four friends, which include a helicopter mom that isn't ready to let go, a sassy New Yorker that is all too ready to find her next young flirtation, a housewife thrust into the job market when her husband gives up everything to join the Peace Corp, and a recent widow that is avoiding her real feelings, take their lives by storm.
Adding to the laughs this season are comic sensations Steve Guttenberg, Gilbert Gottfried, Michael Boatman, Alysia Reiner and Nancy Giles. So drop the laundry, and start binging!
Find out more at theotherfwordseries.com | Facebook | Twitter